The Best Sewing Supplies For Beginners
Today I'm sharing the best sewing supplies for beginners.
When it comes to sewing, there are so many tools people will tell you NEED to get started quilting, sewing for your home or making your own clothes.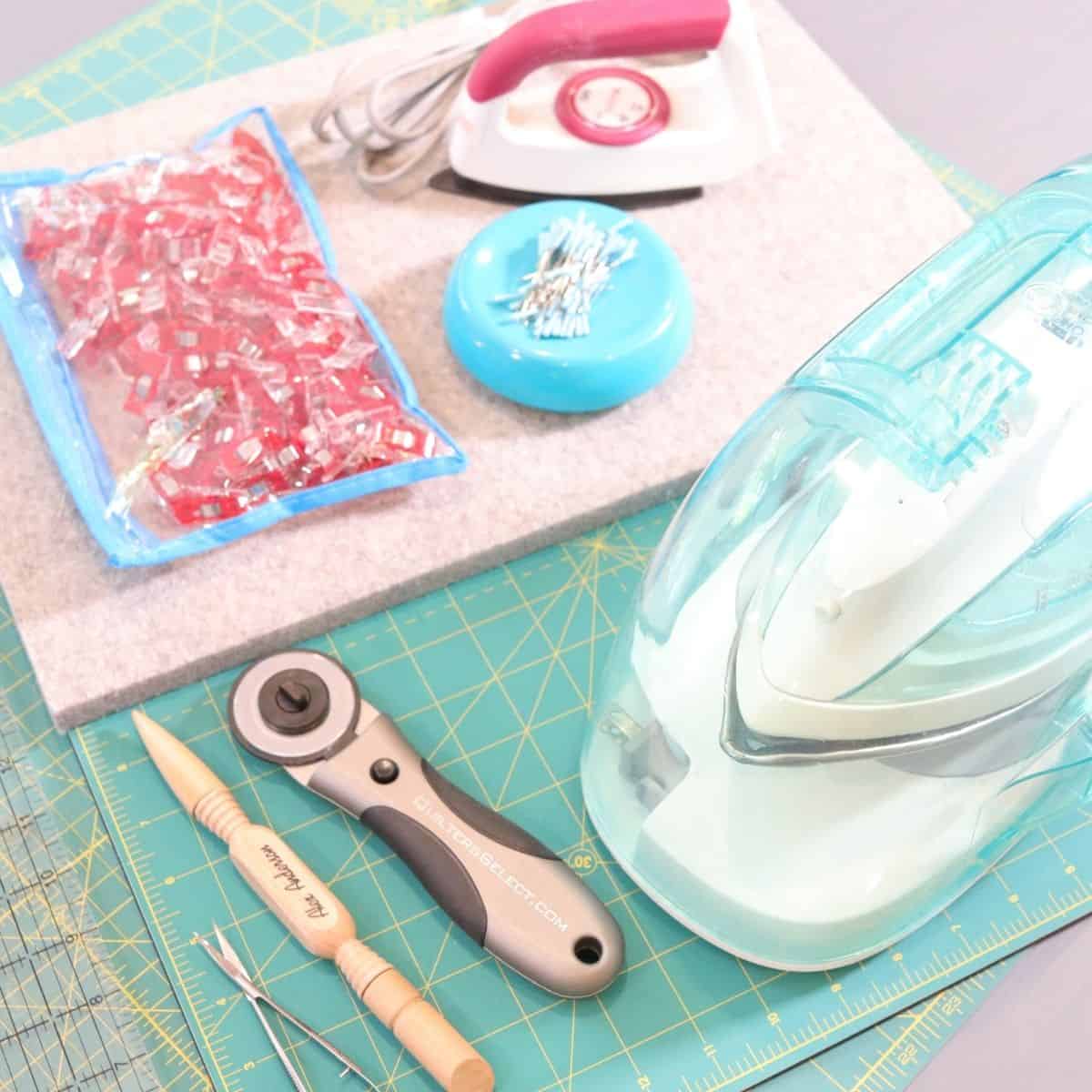 Now it's true that some notions will definitely make sewing a little easier, and maybe help with efficiency, but do you need them when you are just starting out? Likely not.
So I'm going to share with you the best sewing tools that you can buy as a beginner in hopes that it will save you time and money when it comes to just starting out.
I'm showing you all the things I use and trust, but when it comes down to it, buy the best you can for what your budget allows. You can always upgrade at a later time.
Sew glad you're here-let's jump right in!
WHAT SEWING SUPPLIES DO I NEED AS A BEGINNER?
When you are just getting started, there are certain sewing tools that will need to have.
Feel free to skip around on this post to check out the list and why I recommend certain sewing tools over others.
You can use the "jump to" box above to help you see at a glance what I'm covering. Click on anything in that box to be taken right to that section of the post.
SEWING MACHINES FOR BEGINNER SEWERS
The best beginner sewing machine will vary depending on who you ask.
A sewing machine is the number one sewing essential you need to begin your sewing journey.
Sewing machines come in a variety of sizes, colors, and styles such as quilting, free-arm, industrial, and sergers to name a few.
Knowing what type of sewing you want to do will help you determine what type of sewing machine you should buy as a beginner.
Over the last 12+ years of my sewing adventures I have owned so many sewing machines. Mainly because I honestly wasn't sure where I'd end up and what I really wanted my sewing journey to look like.
I started off sewing mainly bags and some clothing. Then I moved on to quilting. Now, I do all of them...regularly. I enjoy all of them for different reasons.
Before you set off to find that perfect beginner sewing machine that's just right for you, know your budget as well as features you'd like your machine to have.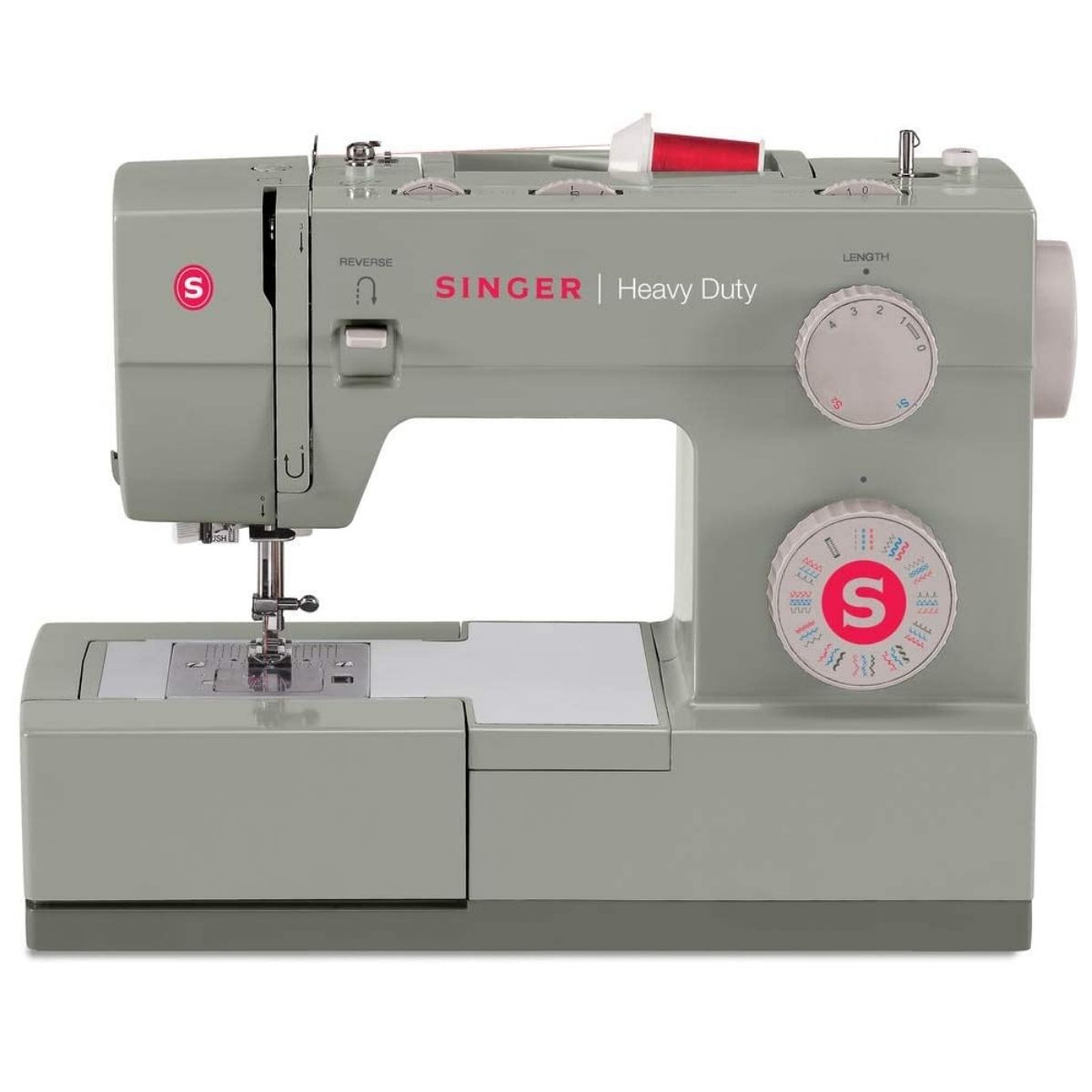 Buy the best possible machine you can afford with your budget.
This was the very first machine I ever bought. I still have it and my 7 year old daughter is learning to sew on it.
If you are looking to skimp on anything, a sewing machine isn't the place. Spend your money here, and skimp of some of the other sewing essentials.
What type of sewing machine should I buy as a beginner?
The short answer is: one you are comfortable using and enjoy sewing on.
Let's explore a couple different options and I'll give my thoughts on all of them. Hopefully this information will be helpful.
Before buying a sewing machine, ask yourself the following questions:
What should I look for in a sewing machine if I want to sew my own clothes?
If you are looking to strictly sew clothes with your sewing machine, here's a few things I'd suggest.
Free arm sewing machine. This simply means that the tray that's attached to the sewing machine is removable, making it easier to sew pant legs and sleeves. Can you still sew clothes without a free-arm machine? The answer is yes. But having a free-arm, especially as a beginner will be so much easier.
Buttonholes. Having a machine that is able to make buttonholes is also something that is especially helpful when making your own clothing or bags. Having a machine that has multiple buttonhole styles and sizes is an added bonus.
Stitch length and width adjustment. Quite a few clothing sewing patterns will have steps throughout the process of sewing a garment where they may tell you to lengthen the stitch (basting). Having a machine that makes it very clear and easy to do this is really helpful. This is standard with most home sewing machines, but I only mention this because I also own quite a few vintage machines and this isn't very clear.
Zig Zag stitch. Having a zig zag stitch can be really beneficial when sewing clothing. It can also be a fun decorative stitch.
Speed Control. I wasn't really sure if I needed to add it to the list but I figured it couldn't hurt. Having a speed control can be extremely helpful as a beginner sewer. Sewing at slower speeds can ofter mean better control, and better control often leads to better final outcomes. I really appreciated this feature on my first sewing machine.
Reverse. This I believe is pretty standard on most sewing machines today. I thought it was worth putting on here since I do have 3 or 4 vintage machines that do not have this feature. Of course there is always tricks to everything, but reverse on a sewing machine should be present.
What kind of machine do I need if I want to sew quilts?
If you are looking to mainly sew quilts or wall hangings, obviously the buttonhole and free-arm functions aren't as critical.
Having a sewing machine that can straight stitch will do the trick. I could do an entire post on all of my quilting machines and their functions and why I love each of them, but I'll save that for another day.
Like anything, everyone will have their own opinions on machines, what you need or what you don't. I encourage you to do a lot of research. Watch YouTube videos, talk to people you know who sew and ask questions. Lots of questions.
Can I test out sewing machines before I buy one?
If you have a sewing machine store near you (Quality Sewing and Vac), they have a really knowledgeable staff and are happy to let you test out sewing machines. Just let them know you are a beginner sewer, so they don't guide you to a machine that's far beyond your experience level or your budget.
I have heard that you can try out sewing machines at big box stores like Joanns, but I have not been able to confirm if this is true or not.
Is buying a used sewing machine as beginner a good idea?
In short-ABSOLUTELY!
I would for sure recommend looking into purchasing a machine second hand. However, there are a few things I should mention/caution you on first.
I would NOT recommend buying a second hand machine on sites like eBay or anywhere that you can't test the machine first. It's really important to feel the machine, make sure you like how it sews and that you're comfortable sewing with it. This is so important.
If you have tested the make/model of the machine at a store, and are buying one still sealed in a box, then I'd say ok. Otherwise...buyer beware.
Safety is always a concern when buying a machine from someone on a site like Craigslist, FB market place and Offerup. If you are going to someones home, be safe. Let someone know the address of where you are going, better yet, take someone with you!
Take a friend or fellow sewer to test out the machine (if you aren't comfortable doing so).
Ask to meet in a public place if the machine is new and still in a box. If you have sewn on the particular model of the machine before and know you are going to buy it, meet publicly. There is safety in numbers and with people around.
Some questions to ask before going to buy a second hand machine?
Do you have the manual for the machine? If not, what is the make and model number?
Have you had any issues with the machine?
When was the last time to was serviced? Did they find any issues? Who serviced it? **Not all machines NEED to be serviced. So if they haven't had a need to service it, that's not a bad thing. Just make sure it's been cleaned and oiled properly**
How often is the machine cleaned and oiled?
Any tension issues that you are aware of?
Would you recommend this machine to a beginner sewer?
Do you have all the parts/pieces the machine originally came with? (extra feet, foot control, bobbin case).
Any missing parts/pieces to the machine are going to end up costing you money to replace them. The more the machine comes with, the less out of pocket expense for you.
Then ask the following questions that I mentioned above if you are looking to sew your own clothing.
Does it have a free arm?
Buttonhole option(s)?
Zig zag stitch?
Speed control?
Again, use this as a sort of guide to finding what you want. Be sure the machine has what you need to meet you're sewing needs.
Overall, be safe. If something doesn't feel right, go with your gut.
Sewing machine manuals
If you are buying a machine second hand, it's important to make sure it has a manual that comes with it OR that you can find the manual either free or a paid PDF version online.
While YouTube can be a great resource for learning how to thread your machine, learning how to sew on your machine, or for troubleshooting, having a manual is a non-negotiable for me. It is always the first place I start when I need to troubleshoot an issue I'm having.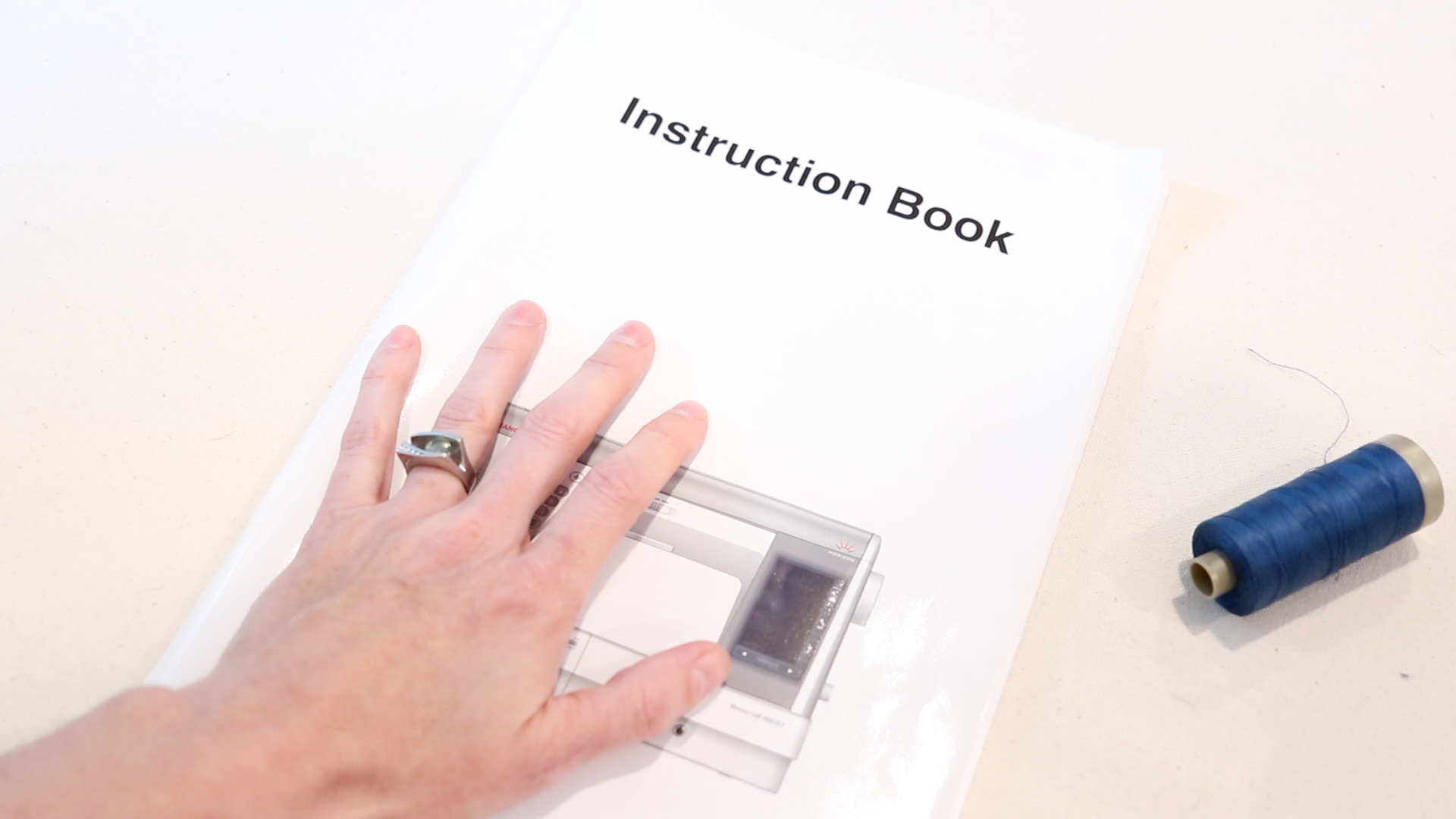 So if you are going to look at a machine and they don't have the manual for it, ask them for the make and model number so you can see how accessible getting the manual is.
If you can obtain a copy of the sewing machine manual BEFORE you go to look at the machine you are considering purchasing, even better. Take it with you!
THE BEST SEWING MACHINE NEEDLES FOR BEGINNERS
Sewing machine needles are a basic sewing tool you will need as a beginner.
When it comes to sewing machine needles, it's worth a note that not all machine needles will fit your make and model of sewing machine.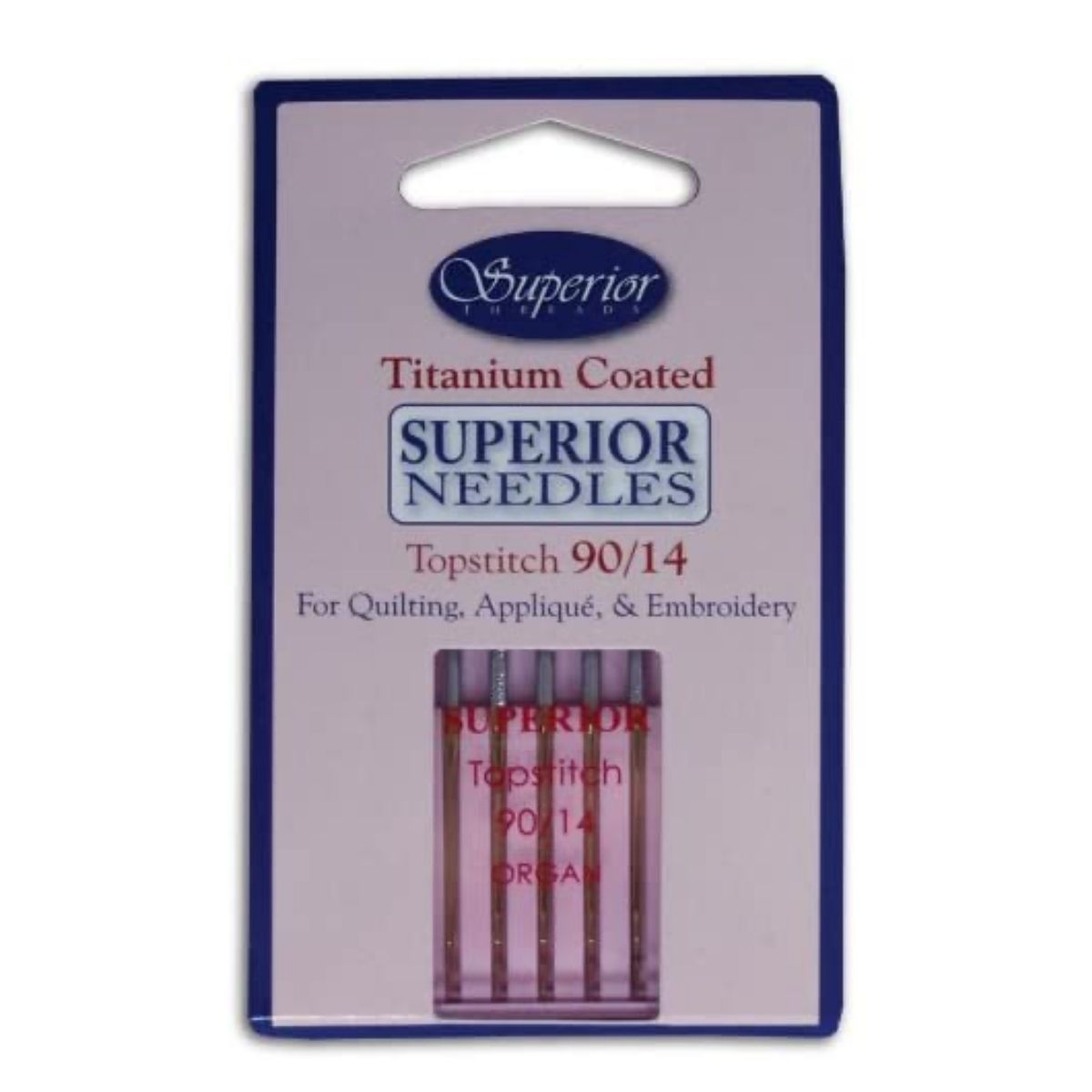 Even needles that are marked as "universal" may not work for you.
The best way to determine what your machine requires, is to check the sewing machine manual.
I don't want to tell you to purchase something that won't work for your specific machine. But these brand of needles work for all my machines but two.
THREAD
The best sewing machine thread is another thing that can be a hot topic when asking sewers and quilters what thread is best. Everyone will have their opinions about this and tell you why a certain brand is better than others.
The best piece of advice I ever got for thread was, "try out different brands and see what works best for your machine and your sewing needs."
This is true on so many levels.
It's weird to think that not all machines respond well to all brands of thread. But it's very true.
How different can they be? Well, they are very different. I have taken an entire class strictly on thread and sewing machine needles (yup, nerd alert). But it was so helpful.
Do you need to take a class as a beginner? No. However, if you decide to continue on with your sewing journey, at some point you may just find it as helpful as I did.
Now I'm going to dive into a few different brands of thread you may want to consider trying out when getting started sewing.
Aurafil
These are by far some of THE BEST THREADS I have ever used. You will notice a slightly higher price point though. But one thing I want to encourage you to do is check the amount of thread you are getting for the price you're paying.
This brand of thread has almost 1,500 yards per spool, where as Coats and Clark has 400 yards per spool.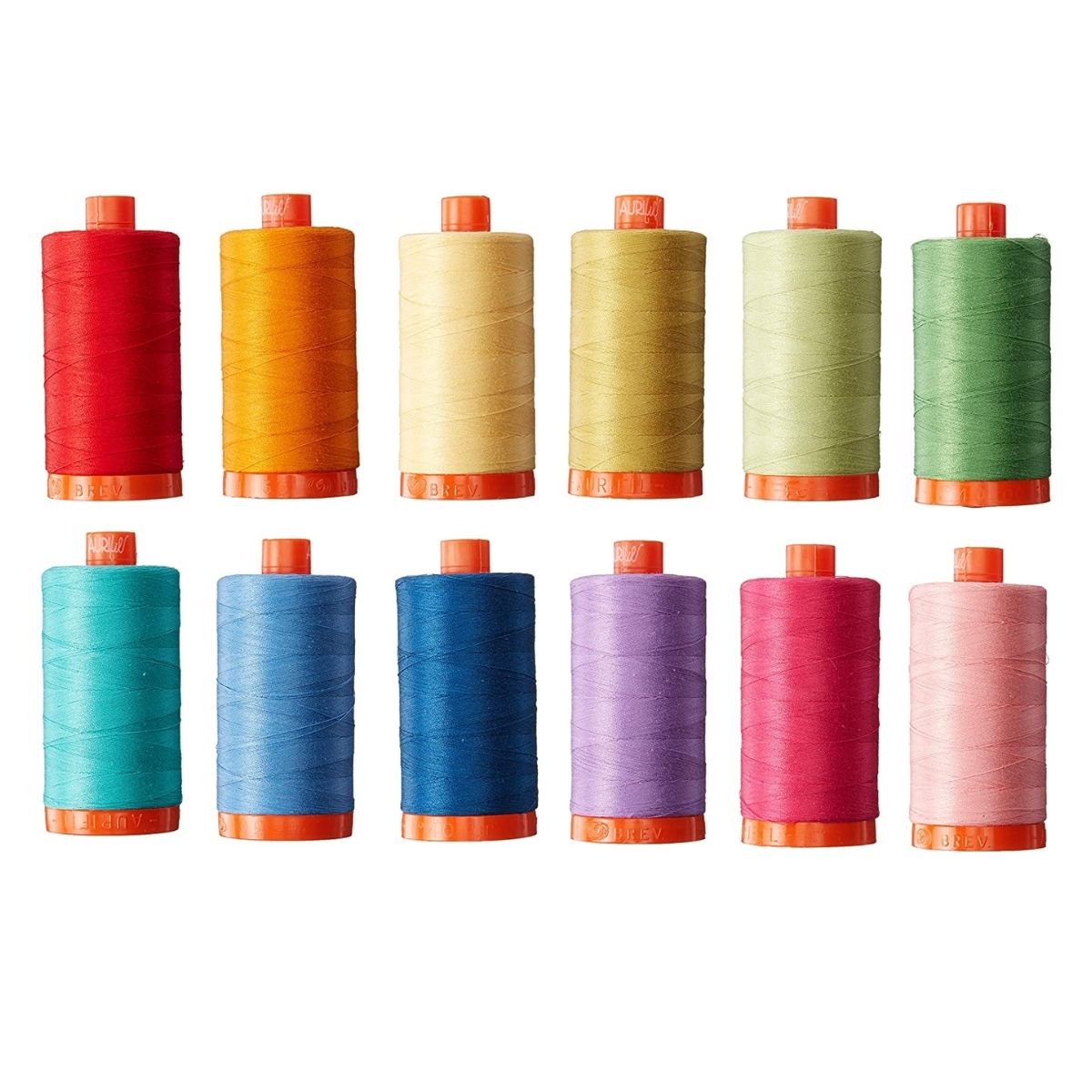 Aurafil thread works beautifully on every single sewing machine I have. Yes, you read that correctly. Every. Single. one. This includes all my vintage treadle sewing machines.
Coats and Clark
Coats and Clark 400 yard spool (also come in a wide variety of colors) $3.95-$7.00
The price can vary depending on where you purchase.
I personally don't like Coats and Clark thread, but I do understand that it fits most peoples budget.
I have included a few other brands that are within the same price point that I'd recommend (and use) over this brand.
Sew-Ology Thread (by Hobby Lobby)
I would also encourage you to try Sew-Ology Thread from Hobby Lobby if Coats and Clark are more in line of what you are looking to spend on thread. Heres why:
Come in beautiful colors
They are on sale for 50% off (frequently)
The plastic spool the thread is on is so much better
I wasn't able to find the thread on their website, but I know they carry it at most stores. It's in the sewing section.
I've had great luck with this thread and own almost 30 different colors. The best part? When it goes on sale it's $4.99 per spool. This is when I stock up.
Hobby Lobby did away with it's coupons (bummer), so just wait until it's on-sale to buy it (unless you're in a pinch and need thread now. Been there, done that).
Gutermann
This is also a thread I would definitely look into and try out.
They have beautiful colors, the spools have a hidden spot to hide a hand sewing needle, and are also available at most big box sewing stores.
You can find Gutermann thread HERE.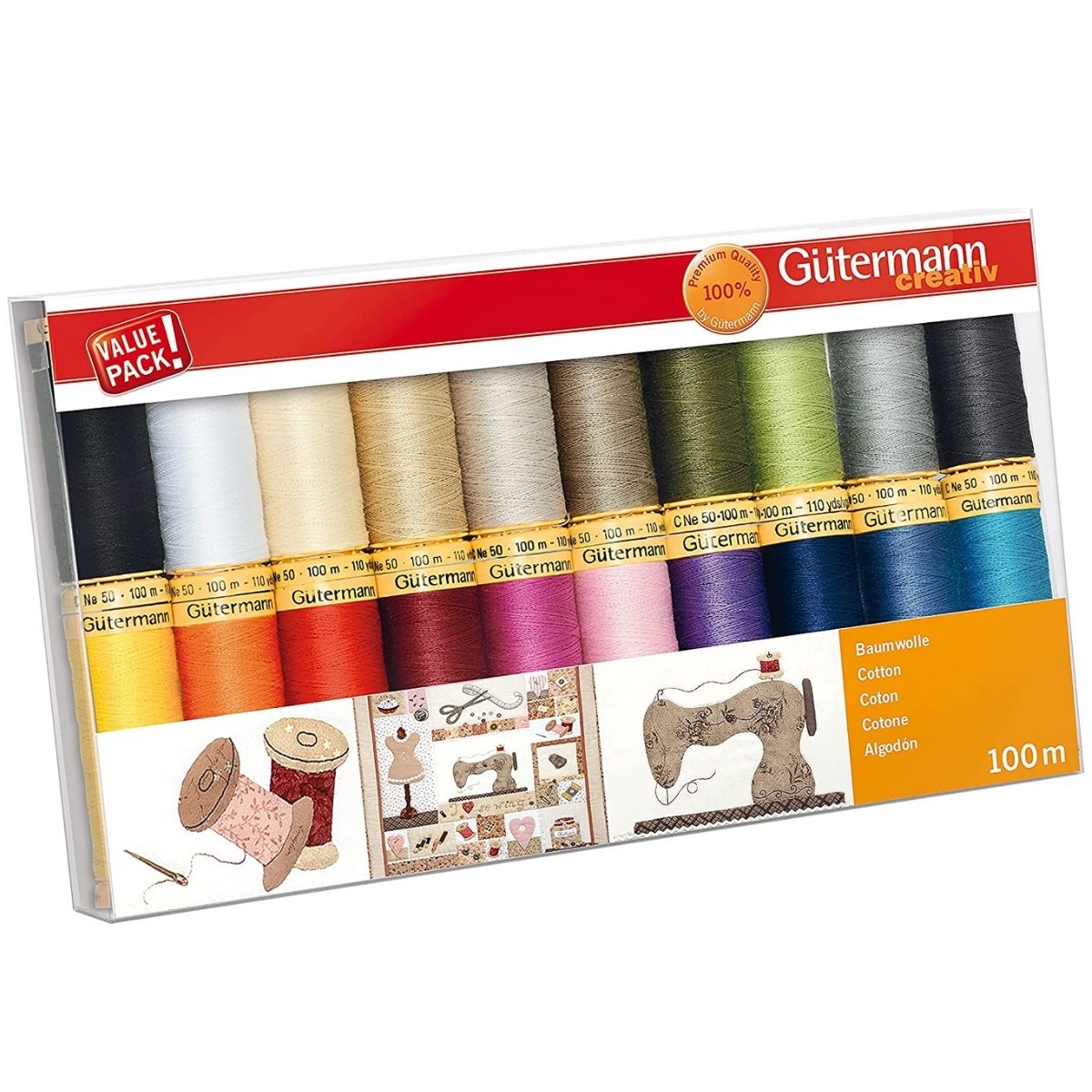 WHAT ARE THE BEST FABRIC SCISSORS FOR BEGINNERS?
Having a nice pair of fabric Scissors is definitely a sewing essential.
When it comes to fabric scissors, you'll hear people raving that the brand they use are best. It's only after years of sewing and trying out many (many) pairs will you also have a favorite.
If it works for you, and you love it...that's all that really matters. Not someone tells you is the best.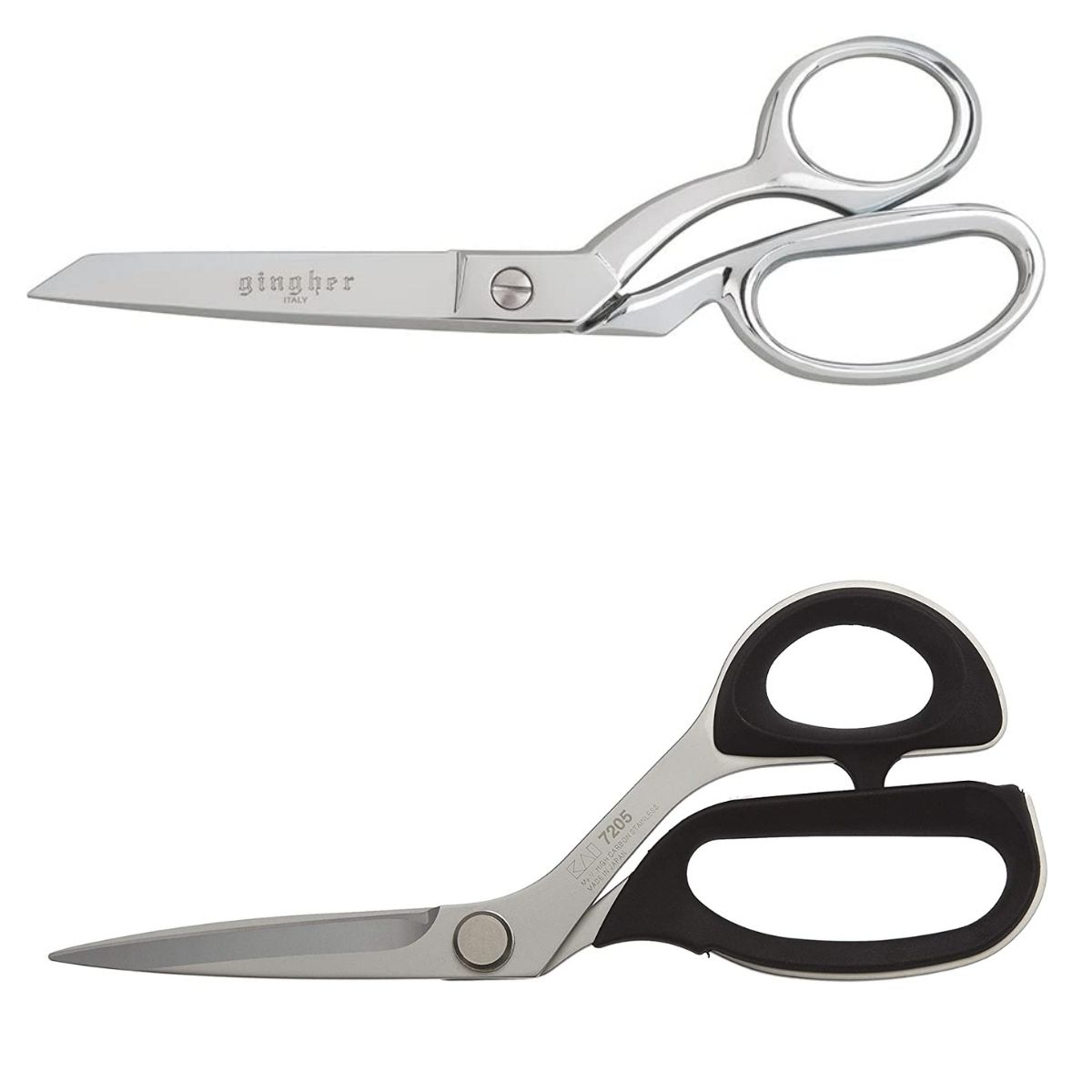 These are the only two brands/pairs of fabric scissors I've used with great success. I love them both equally.
PATTERN SCISSORS
You may be wondering why I have two separate pairs of scissors listed. Let me explain. Obviously if you only have the budget for one, then work with what you have.
The reason for having a separate pair of scissors for fabric and a pair for cutting patterns it that your scissors will stay sharper longer.
Scissors that are used for cutting patterns can become quite dull and can make it more difficult to cut your fabrics easily over time (especially delicate ones).
This can be especially true if you are cutting a lot of print at home PDF sewing patterns. This is because you'll be cutting printer paper and not just the standard tissue paper used in most mass manufactured patterns today.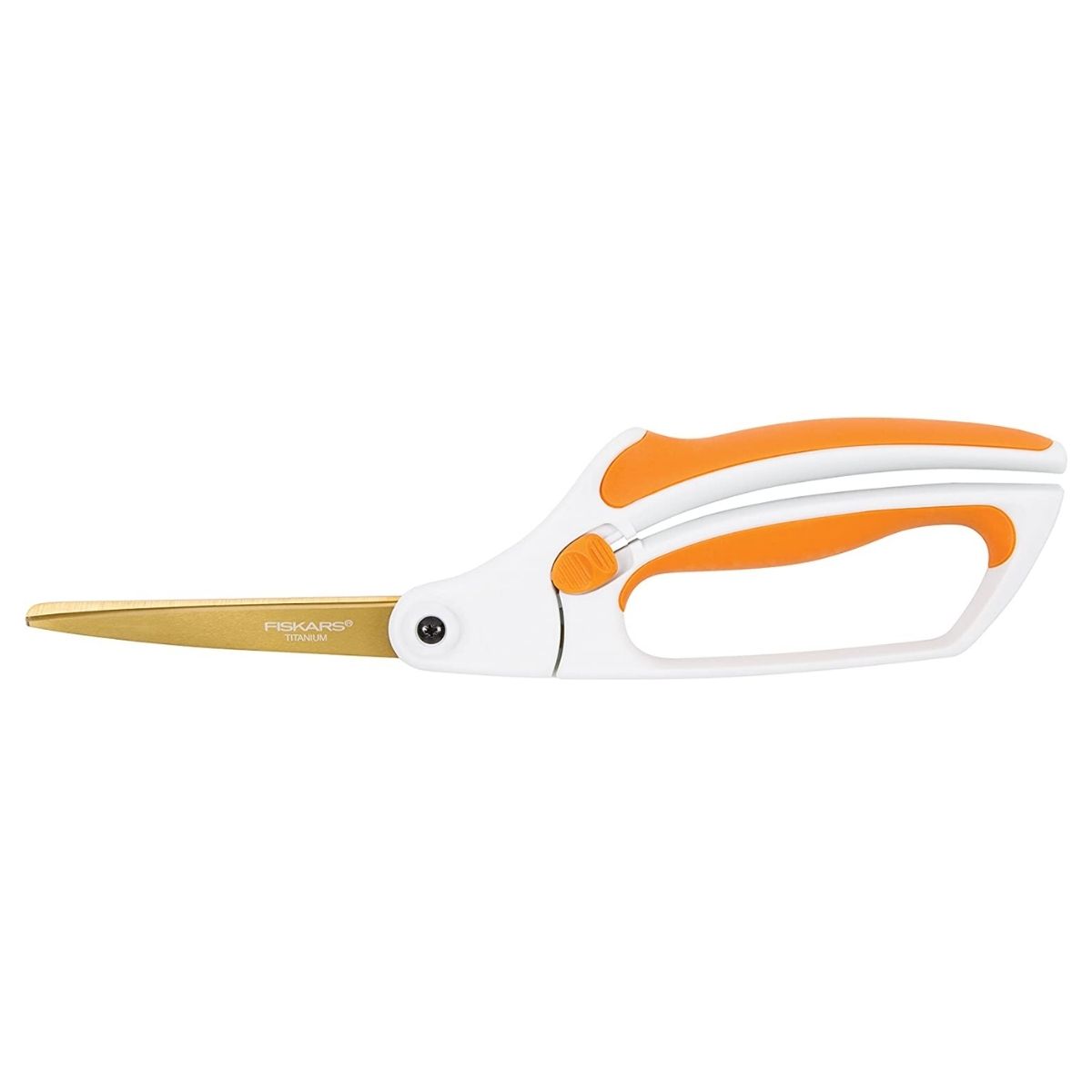 These are my favorite scissors for cutting out patterns because they have a spring back cutting mechanism which cuts down fatigue when doing a lot of cutting. It can also help significantly if you have arthritis or carpel tunnel syndrome.
These are the only scissors I use for pattern cutting, but any scissors would work.
THREAD SCISSORS
These are my all time favorite little thread scissors. I have a 3M command hook on the side of each of my machines and a pair of these sweet little scissors having from the hook.
Having them on my machine makes them easy to find and keeps them off the floor.
These are really nice for snipping all those peeking threads really close to your fabric. They also have a spring like mechanism that makes them really nice to use.
You can just use regular scissors, but I have sound these scissors and absolute joy to use.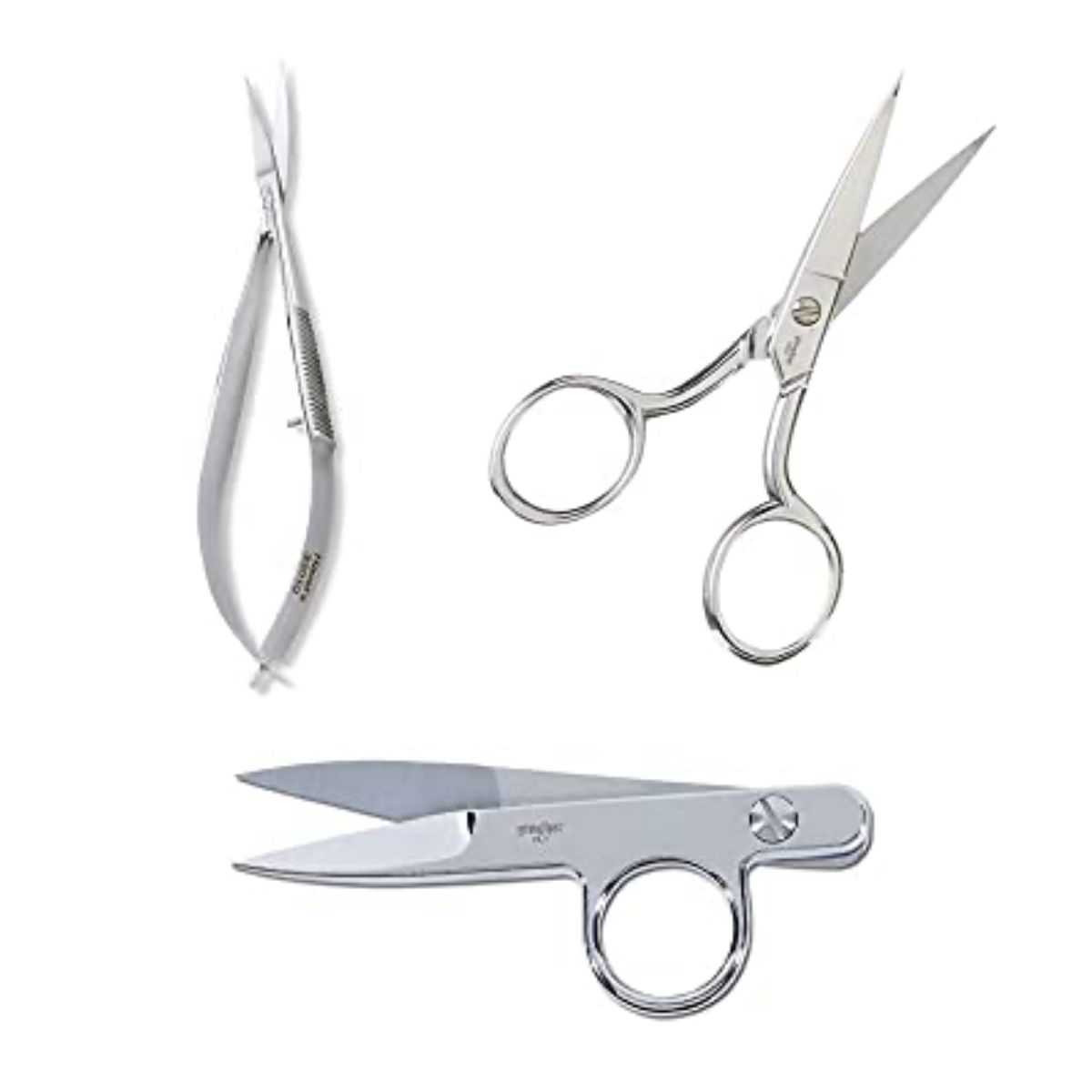 I have all three varieties of thread snips, and love them all. Pick a style that works best for you.
MEASURING TAPE
Measure twice, cut once. You'll likely hear this phrase a lot from people who sew or quilt.
I prefer this measuring tape because it tells you what each marking measurement is. You can also purchase a retractable tape measure.
Do I need that during the day when I'm fully caffeinated and alert? No.
However, after a full day of sewing and when it gets closer to bedtime, I have been known to read a tape measurement incorrectly which resulted in an incorrect cut. This can be especially bad when cutting into no longer in print fabric. But I digress.
This measuring tape is comparable in cost to one that doesn't have all the measurements marked on it.
RULER FOR ROTARY CUTTING
I really enjoy using rulers with my rotary cutters. It helps will cutting efficiency and speed.
Of course as a beginner, speed shouldn't be a concern, but it really does help out in that department.
These come in many different sizes as well as brands.
I really prefer this brand of ruler. They have a lip edge on the bottom that hooks onto the edge of the cutting mat and can help with precision and keeps the ruler from slipping around.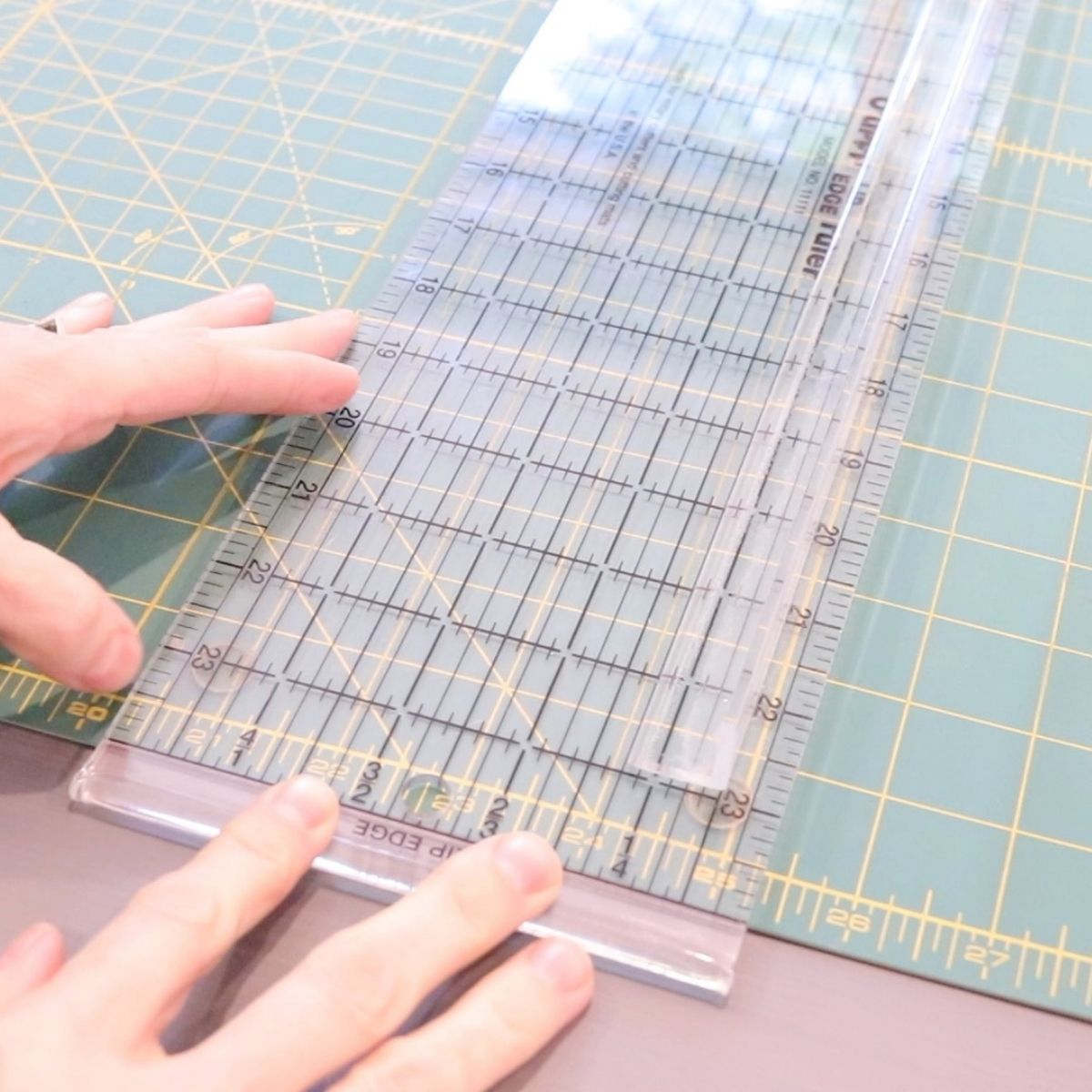 I also have a collection or clear rulers without a lip edge. It's personal preference. As a beginner sewer, I think the lip edge on the ruler is an added bonus.
If you are going to be using a rotary cutter, mat and ruler, consider putting a safety guard on the edge of your ruler to further protect your fingers.
ROTARY CUTTER
A rotary cutter isn't a necessity when you're first starting out, however, I quickly figured out how nice it was to use. It can making you're cutting projects (especially lots of straight cuts), a whole lot easier (and faster).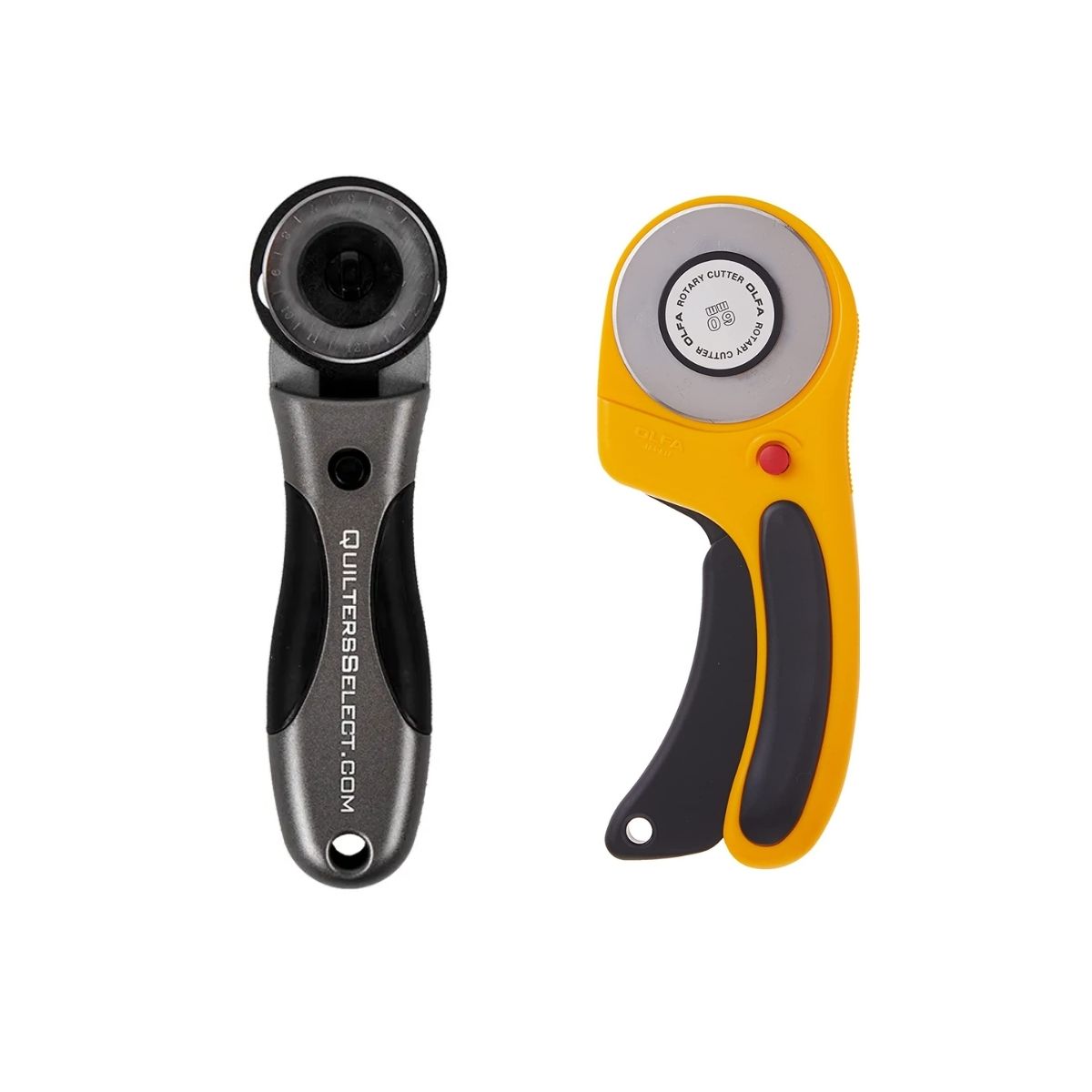 All three work really well. Choose what's right for your budget. It's like having nice scissors, they just make things so much easier.
CUTTING MAT
If you are planning to use a rotary cutter when you're sewing, you'll need to invest in a cutting mat to protect your work surface. Rotary blades are extremely sharp and will slice right into your table top.
If you are planning on only using scissors, you can likely get away with not having this (at least for a little while).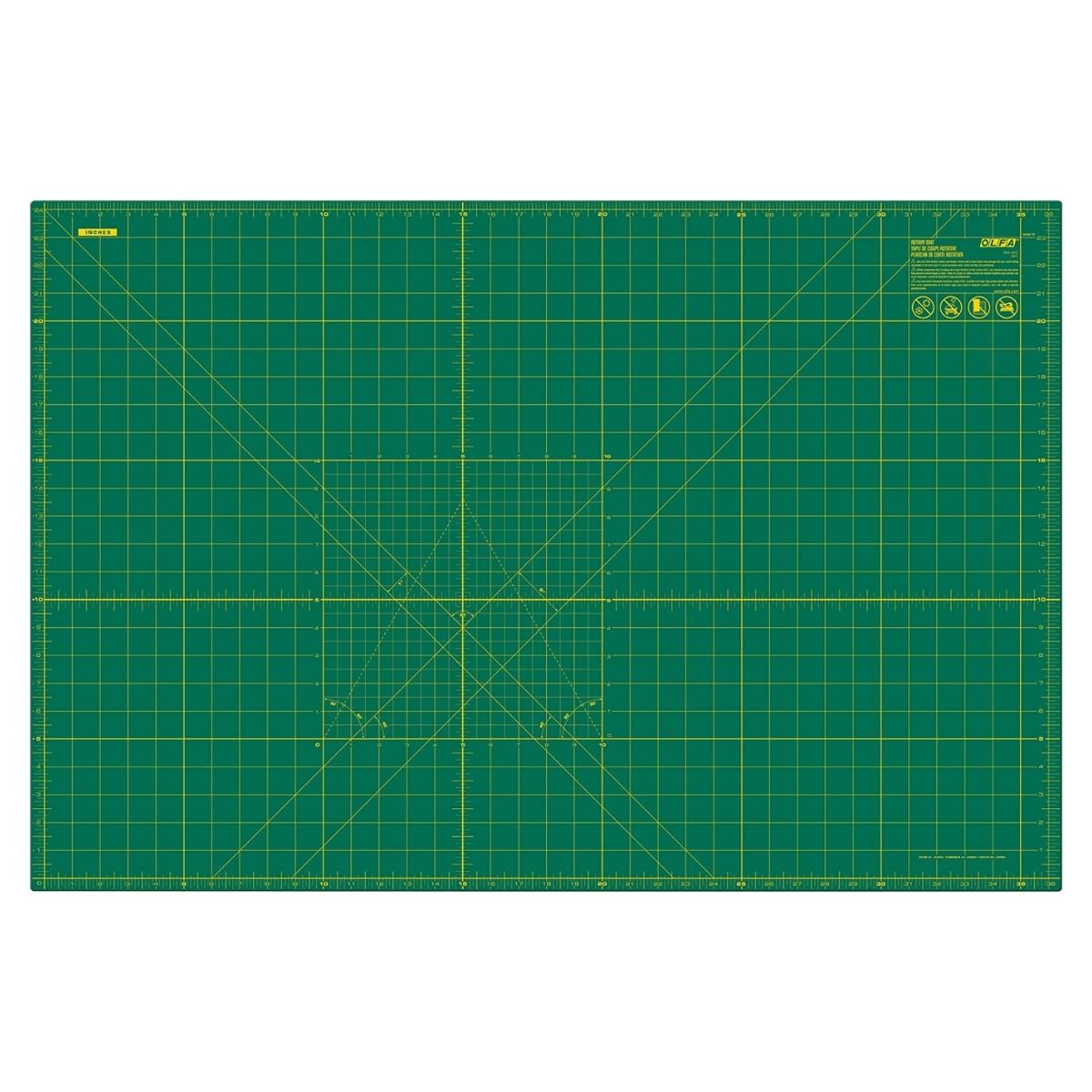 SEAM RIPPER
Seam rippers are a sewing essential whether you are new to sewing or not.
At some point in you're sewing career you'll become quite familiar with you're seam ripper.
A seam ripper is used to "rip out" the seam you've sewn incorrectly. I have a really close relationship with mine after all these years.
You can also try this amazing 4 in 1 tool. It's a seam ripper, point turner, presser and stiletto all in one!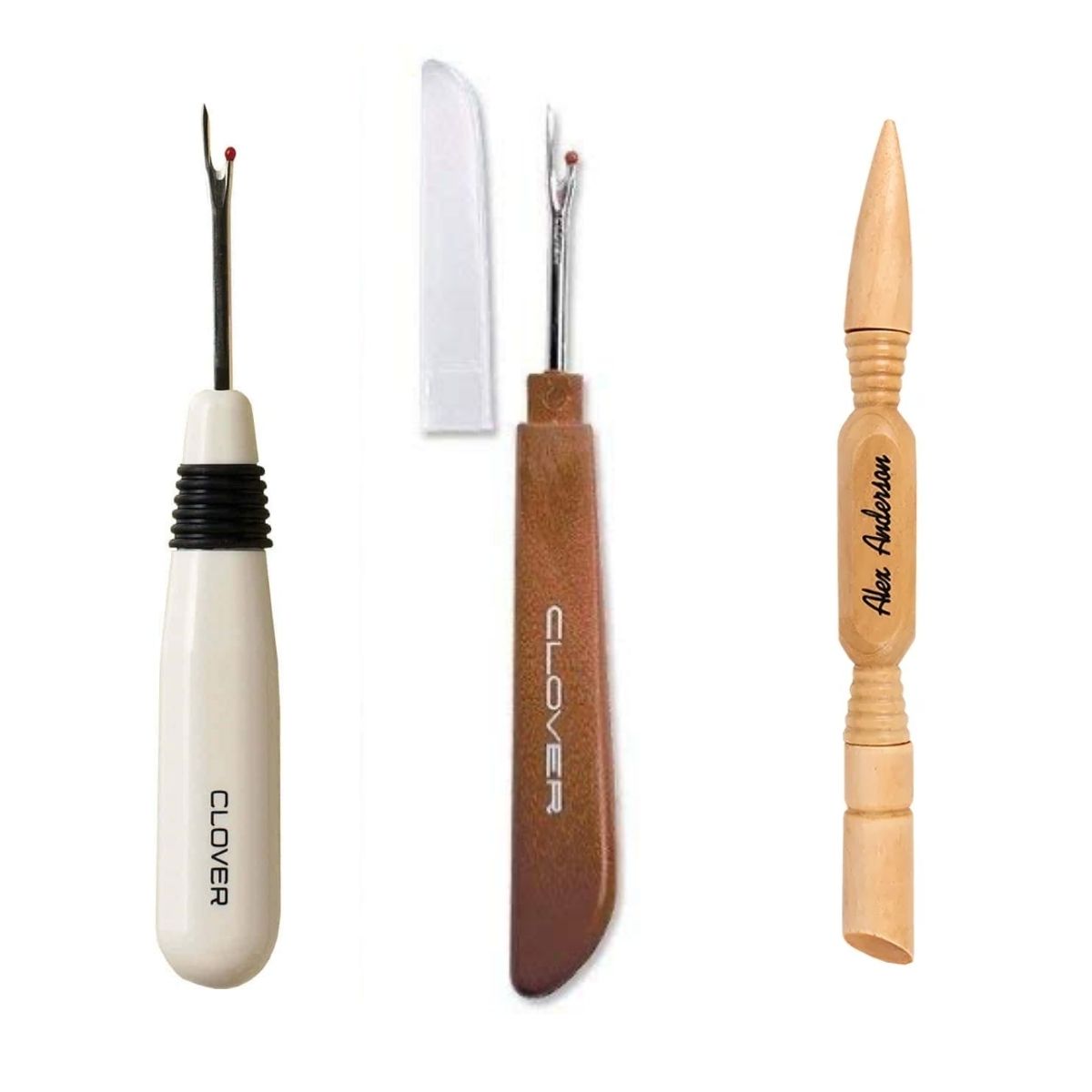 All these seam rippers work equally well.
IRON
Irons for me have really been all about ease of use. After cycling through many irons, I have a couple favorites. I'm listing both the cordless and the non-cordless ones.
The important thing when selecting an iron is to make sure it has steam. You won't always use it, but it is helpful.
Any iron will work when you're just getting started sewing.
Irons can vary greatly in price. Be sure and check your local big box stores like Target and Walmart too. You may be able to get something comparable at a much lower price point.
IRONING BOARD or PRESSING MAT
When it comes to beginner sewing basics, an iron or pressing mat will need to be on your list.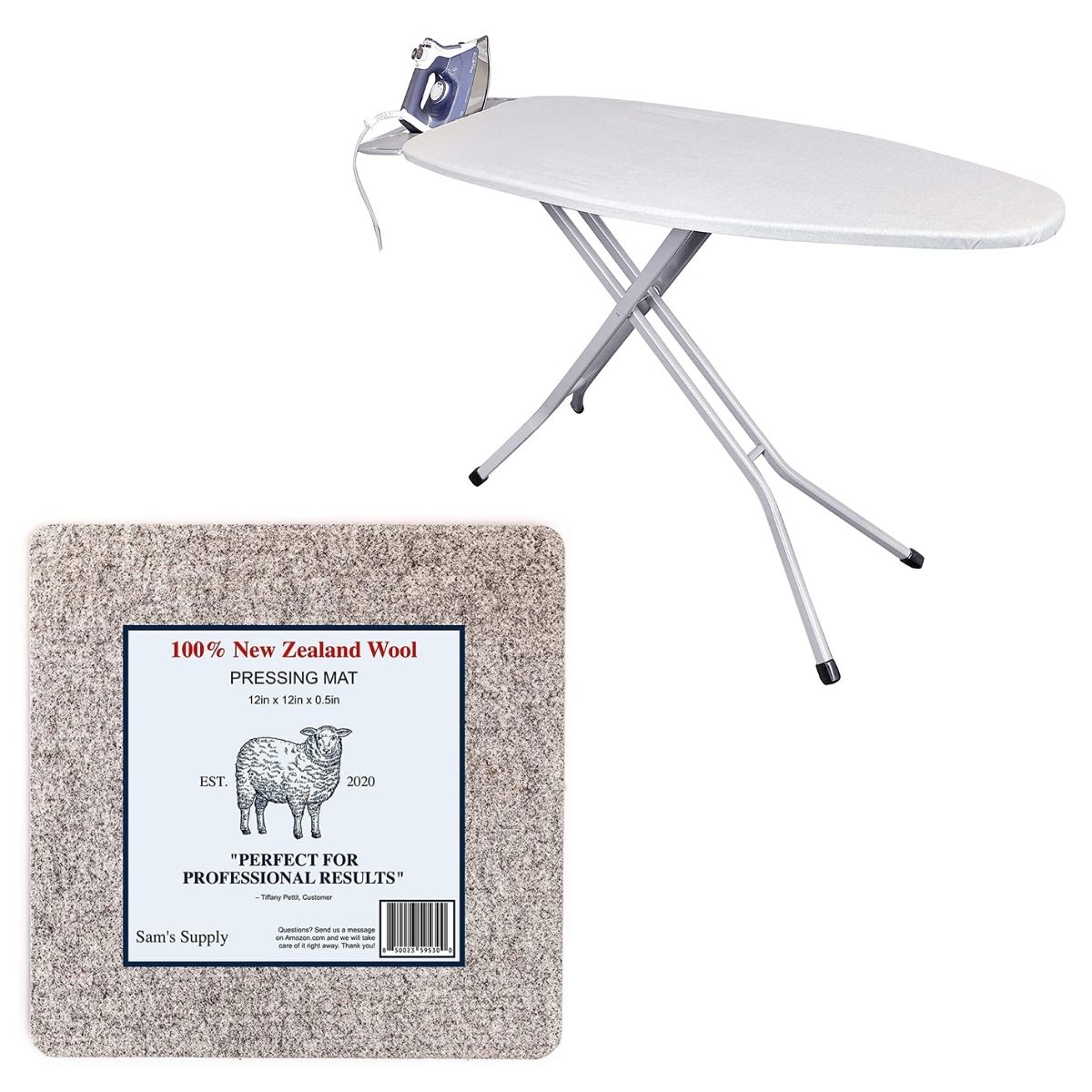 SEWING PINS & SEWING CLIPS
Sewing pins are a tool you will use frequently when sewing quilts, bags or clothing.
Likewise, sewing clips are newer to the sewing world in terms of people using them instead of pins.
I have clips and pins and use both for different reasons.
As a sewing beginner, I would suggest pins first. Clips are wonderful tools but they are definitely more expensive than pins.
If you'd like to try out sewing clips, but don't have the budget for them yet, consider using mini binder clips. They work similarly but without the high price tag.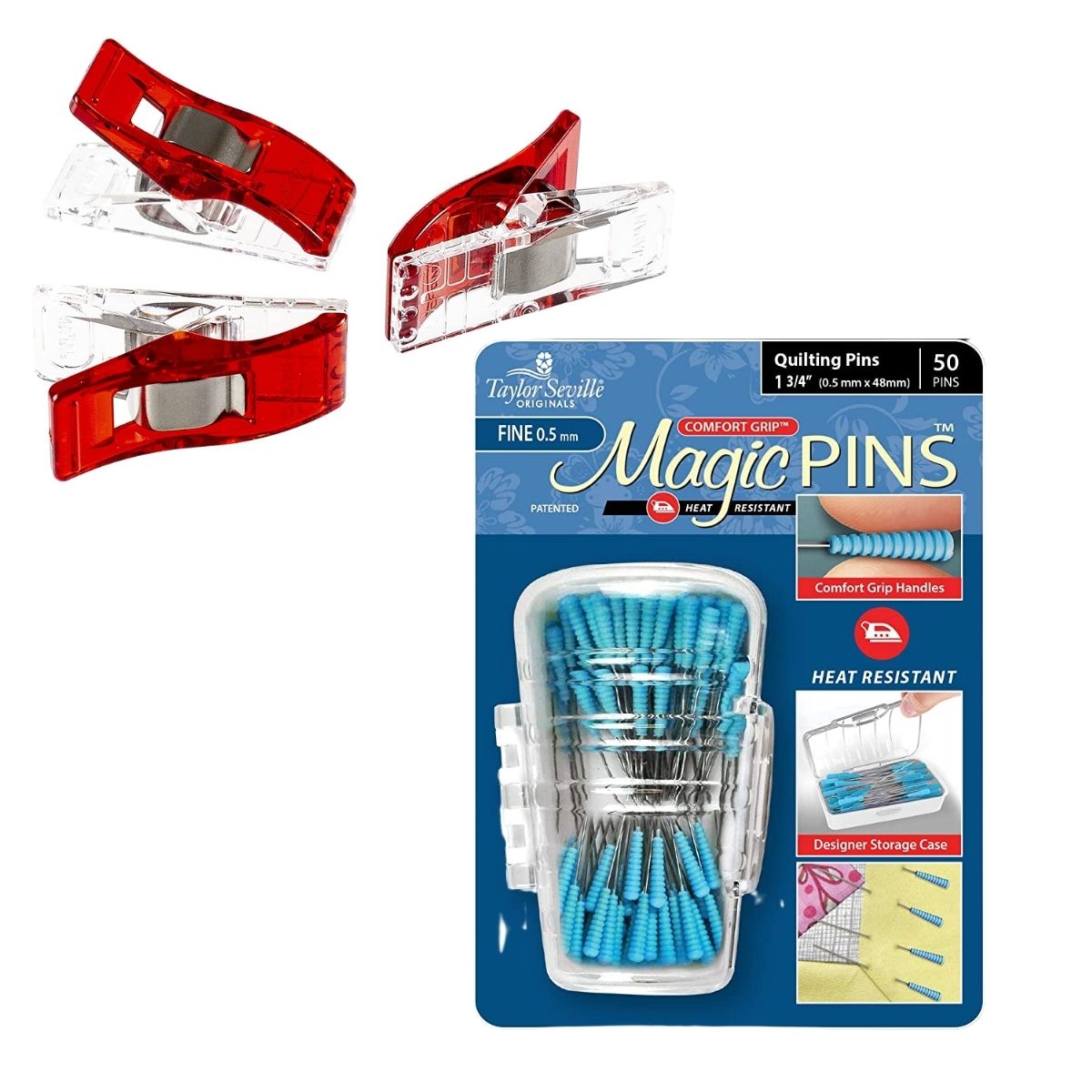 PIN CUSHION
When it comes to pin cushions I prefer magnetic ones. If you drop all your pins on the ground and have to pick them up one by one so you'll understand.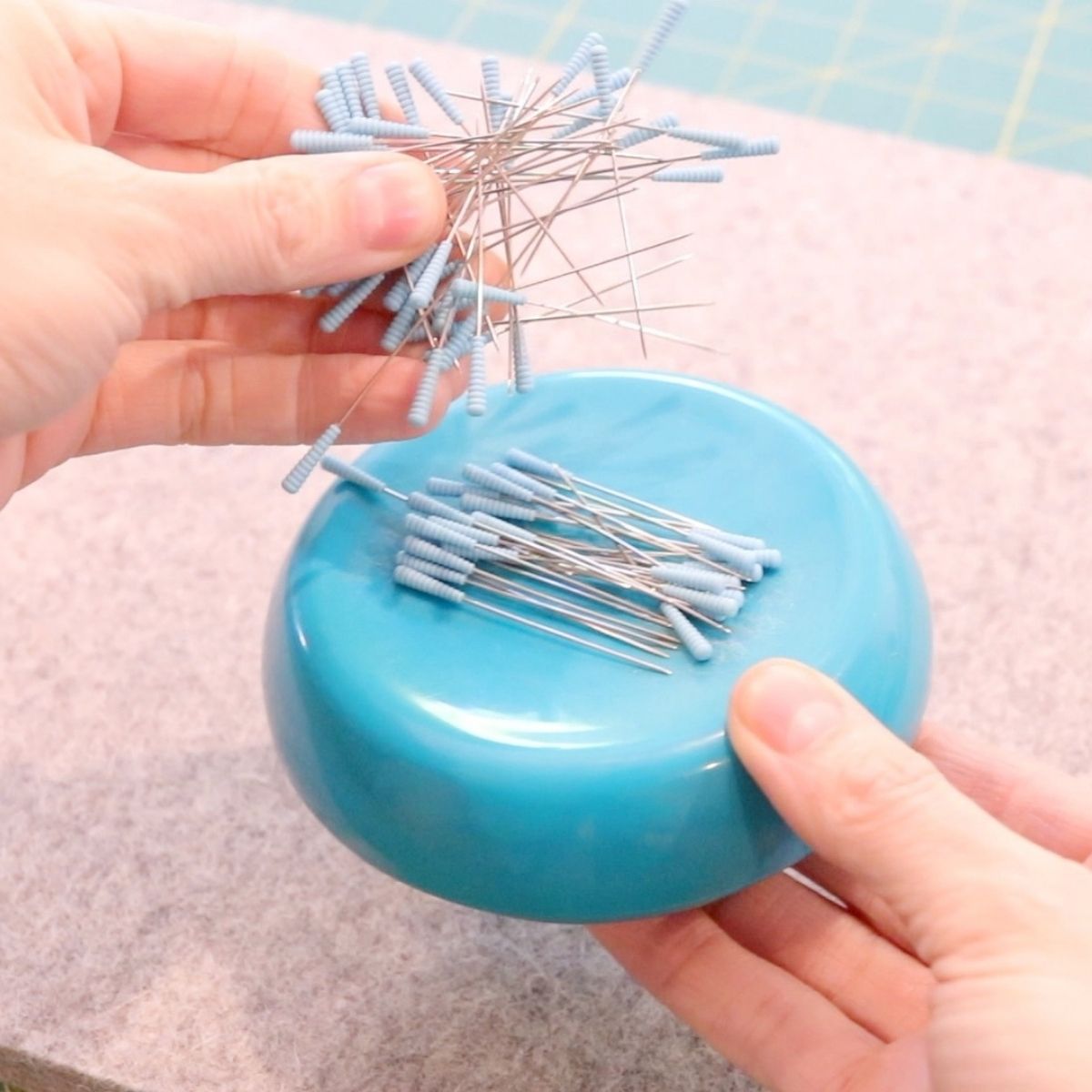 With a Magnetic pin cushion you can run it along the ground (or your sewing table) and it will grab all those pins for you. So much easier than picking them all up.
I included a regular pin cushion on the list, but honestly I no longer own one and will never go back to that.
FABRIC MARKING PEN or CHALK
Fabric marking pens or chalk pencils are sewing essentials whether you're a beginner sewer or more experienced quilter.
These really come down to trial and error and what you prefer to use. I have both.
I really like using the pen for marking my clothing patterns, and the chalk pencil or regular tailors chalk to mark quilting lines.
These are pretty inexpensive sewing items, so give them a try!
TRACING WHEEL FOR MAKING CLOTHES
Tracing wheels are used to transfer markings from your sewing patterns onto your fabric without tracing paper.
Some of the markings may include: darts, pleats, buttonholes, notches or lines for pocket placement.
Tracing wheels are a sewing tool essential if you plan on sewing your own clothing or altering clothing in any way.
I have really like the quality of the Clover brand sewing notions. So here's the tracing wheel.
I use this a lot with making clothes.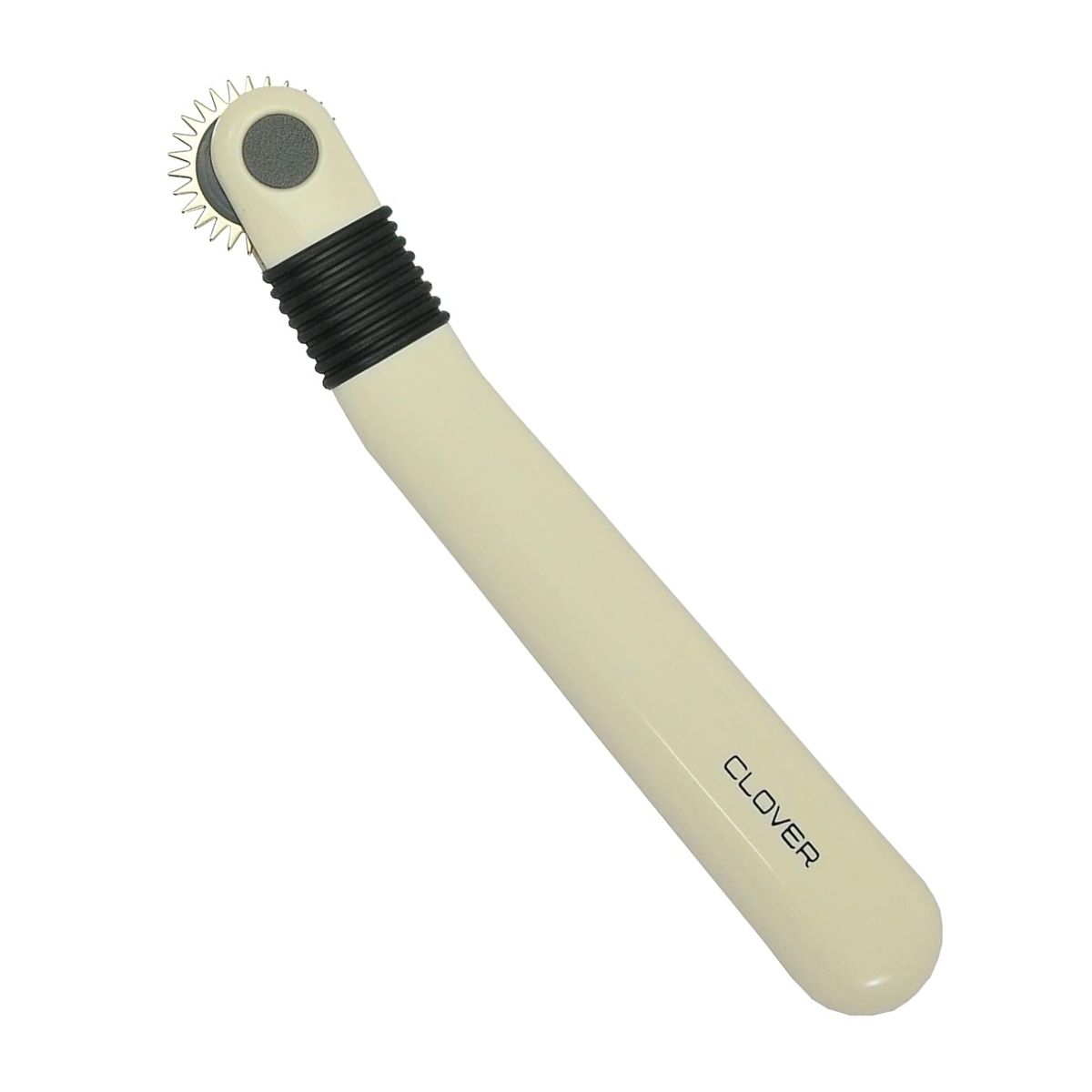 SHOP FOR THE BEST SEWING SUPPLIES FOR BEGINNERS HERE!
Here's a complete list of the best basic sewing supplies for beginners.
These sewing tools can help you achieve the results you're after-even as an absolute beginner!
Sewing Machine (great for sewing clothes and quilting)
Sewing Machine Needles (my absolute favorite brand of sewing machine needles)
*Be sure and buy the right needles for your sewing machine. "Universal Sewing Machine" needles do NOT work with every machine. This information can be found online or in your machines user manual.*
Thread (this is my favorite brand of thread and it comes in a TON of colors)
Ruler For Rotary Cutting optional ruler safety shield (finger protection) Ruler Safety Shield
Seam Ripper or the 4 in 1 tool
Basic Iron (Any iron will work, just try and get one that has steam)
Ironing Board or Pressing Board (You don't need both. I prefer my pressing board but buy whatever is best for your space, your needs and your budget)
Pin Cushion (this magnetic one is a fave of mine and comes with pins!)
Grabbit! Magnetic Pin Cushion (if you prefer brand name-it also comes with pins, available in different colors too)
Fabric Marking Pen or Chalk Pencils
Tracing Wheel For Making Clothes
BEGINNER SEWING BOOKS (BASICS)
The best sewing books for beginners are hard to find if you don't know what you're looking for.
I love having hard copy books for resources. I prefer them to the internet. Don't get me wrong, I use the internet but I use my books more.
So if you are a person that doesn't love books as a resource, you can skip this section.
If you aren't looking to purchase books, then check to see if you can check out some of these book titles at your local library.
Some of these books are older books, but the information is still relevant and valuable. Remember, these are sewing basics.
Sewing Machine Attachment Handbook (Strictly for reference. Check to see if you can check this out at your local library. It's a really helpful book to have, but it is really expensive. I was lucky enough to find a copy at a second hand store for $1.99)
The prices for these sewing books can vary depending on where you purchase them. Check your local thrift shops. I have found some of my most favorite books at second hand shops.
BEGINNER BOOKS FOR SEWING YOUR OWN CLOTHING
Beginner Sewing Books for Making Clothes
Sewing For Beginners
Not only is it important to have the best sewing supplies as a beginner, but it's helpful to know how to use them.
Below you'll find a couple other sections of information that may help you as a beginner sewer. I've included some beginner sewing projects with free patterns, video tutorials and written instructions, as well as a how-to for threading your new sewing machine.
This is the sewing machine I'm demonstrating on in the video, but you can use this as a guide for your machine.
Beginner Sewing Projects
How To Thread A Sewing Machine For Beginners
While threading every sewing machine won't be exactly the same, the basics are very similar. Again, never hesitate to check you sewing machine manual. You will (or should) have a very detailed description of how to do this for your machine.
Vintage machine manuals can be a bit more vague, but there are a ton of helpful videos on YouTube for that.